Shaker Style Cabinets for Your Kitchen or Bathrooms from the Experts
From a spartan white look that conveys clean in any situation to rich Monterey Espresso Shaker and Beech Espresso varieties that promote a modern look, Best Online Cabinets has the single greatest collection of shaker cabinets to fit your kitchen or bathroom. Matching any running theme in your home very easily, most designers agree that it is impossible to see these cabinets going out of style.
What are situations where you might consider shaker style cabinets for your kitchen or bathroom look? When you are interested in tying together unique visual elements in a room, the shaker works perfectly to soften transitions and create a unified theme. Because its ageless appearance shows off both new and historical design, you have the opportunity to play with different periods in your remodel at the same time.
Choose modern fixtures and backsplash while decorating the space with rustic elements; allow the shaker cabinets to tie it all together without leaving a seam. If you have beautiful moldings extending into other parts of your home, let the shaker cabinets transition them into your new countertops or bathroom vanities.
Interested in our pre-assembled shaker cabinet selections for kitchen? Browse them here.
Shaker Kitchen Cabinets Fit Both Modern and Traditional Themes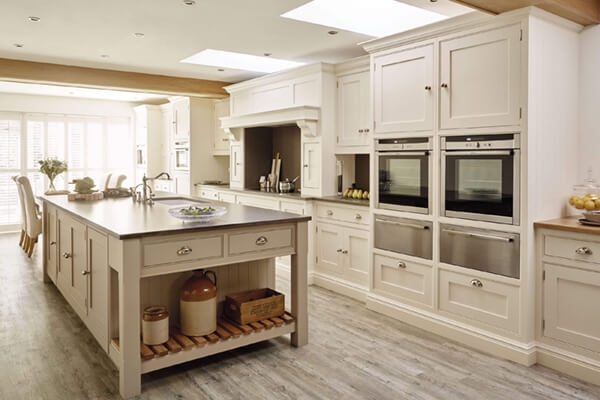 If you are looking into a storage solution for your upcoming kitchen or bathroom remodel, don't make your choice without giving consideration to the classic shaker style. Given their storied past, you might be surprised at how flexible these cabinets have proven to be in a wide variety of modern home designs. If you need a major visual piece to behave as a transition element between more traditional features and modern ones, look no further. Shakers are great at bridging the gap between the old world and the new, allowing you to avoid what may otherwise have been a clashing aesthetic.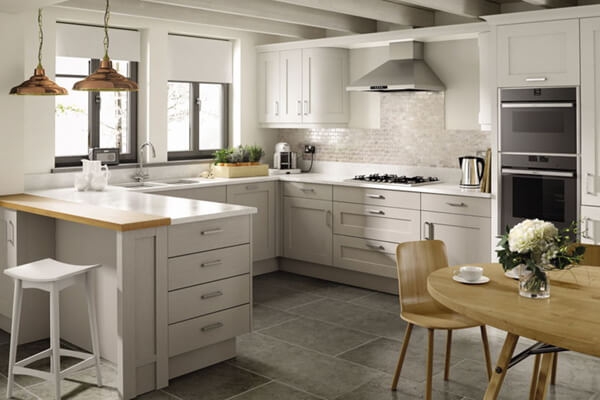 History of the Shaker
The heritage of the shaker cabinet is a testament to function over form. Emerging from the 18th century American Shaker movement, their design represents the values of that time and those people. Choosing a life free from the trappings of material desire, the Shakers avoided the more ornate carved furniture and carpentry from other communities. They relied on themselves instead, crafting their own unique style that more properly reflected a simple life.
From their homes down to small accessories, the Shaker visual appeal revolved around growth as a community. Their households were communal and built with the promise of large future families in mind. Built with high ceilings and wide open spaces, there was plenty of room for moving around in the kitchen or other family areas. Hand-crafted furniture from lightweight woods could be easily lifted and moved about to make space. It was not uncommon to find peg rails running the length of any large room to easily store chairs, baskets, or hats for tidy floors.
This bare lifestyle and urge towards keeping things out of the way extended to the innovation of the shaker cabinets which has remained with us ever since. Functional and recessed, their beauty lies in their basic order and use. Installing them during your remodel delivers a refined look while respecting what makes a kitchen valuable.
Characteristics of Our High Quality Cabinets
Our selection of shaker cabinets carries on the great tradition of their construction through the years. Finely built from durable materials, your shaker kitchen or bathroom will be set for years to come. With that in mind, go into your cabinet purchase well equipped and with a great understanding of what makes shakers unique and beautiful.
The common characteristics of amazing shaker style cabinets include:
Unadorned: The basic clean lines of shaker cabinetry can't be mistaken. A style that usually includes a flat panel door along with rail frames, it can take center stage with its modest appeal. They are usually left with a natural wood finish or stained to bring out the beauty of the wood. Your shaker kitchen will be one of the easiest to accent with artwork or accessories. Add a detail here or a detail there to change the whole look seasonally or for parties.
Built to last: Our shaker cabinets are constructed out of durable hardwood with either 1/2" or 3/8" thickness plywood boxes and smooth dovetail drawers (an industry standard for quality drawer design) for strong assembly. Most options also use soft close hinges so that you can enjoy the look of tradition without its loudness.
Simplicity: The visual signature of shaker design is its understatement. It is a powerful nod to the importance that the kitchen itself serves as a place for food preparation and family gatherings, or of the bathroom as a place of quiet comfort. Keep everything stored conveniently in the centerpiece of your remodel.
Best Variety in Color Options
Your kitchen or bathroom remodel should be unique. It should reflect your own identity as well as the personality of your home. Cabinets are usually the single biggest purchase decision in a remodel because they are also the largest new addition to your bathroom or kitchen. Since your choice in cabinets plays such a big role in defining the theme of the space, design and colors available should give you the right options to fit your style.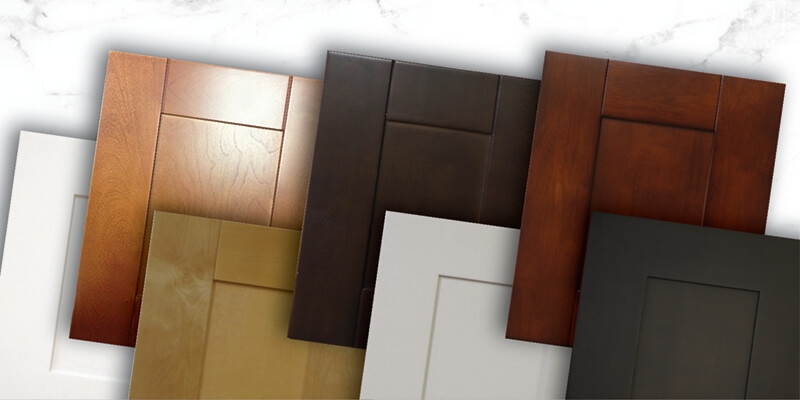 The Best Online Cabinets online store hosts the most popular RTA shaker cabinet colors to make your shopping easy:
When you know that shaker cabinets are the ones for you, let Best Online Cabinets provide the hassle-free shopping experience you have been waiting for. Browse our RTA shaker cabinet collection today.