Built-in appliances can keep a whole kitchen organized and clean. Some homeowners do not like the aesthetic of stainless steel appliances present everywhere in the kitchen. Either they can clutter the countertop and eat up space or use up too much space.
What does having a built-in appliance do for the kitchen? Many people do not like how many individual appliances they need. These include the refrigerator, range, dishwasher. Although those 3 are the only visible appliances, there are typically more appliances that sit on the countertop and take up space. Toasters, toaster ovens, blenders, coffee makers, rice cookers, slow cookers, and even some microwaves occupy countertop space for many individuals and cabinet space when stored away.
More Common Built-in Appliances
Built-in dishwasher
A dishwasher is the easiest to build into the cabinets. This option is available in panel ready dishwashers and dishwasher drawers. Panel ready dishwashers are just like normal dishwashers, but accept a cabinet face on the front. A panel ready dishwasher will sit flush to the cabinet front rather than protruding from the cabinet. Most appliances that slide in including the fridge and range protrude from the cabinets and do not sit flush. Panel ready appliances will cost a lot more than normal appliances. Customers that want the aesthetic of having a flush kitchen design may go the higher route.
Dishwasher drawers are commonly found in small kitchens like design studio apartments. They are less than 10" high. Small kitchens cannot afford to put a whole dishwasher appliance in such a small room and cannot sacrifice storage space. Would a normal kitchen replace having a standard dishwasher for this variant? Only if that person does not want the large stainless steel a typical dishwasher provides.
Built-in refrigerator
Like its dishwasher equivalent, built-in refrigerators will sit flush with the cabinet fronts. Aesthetically it will look like a pantry. Having this fridge next to the pantry will create a visually pleasing design. How does one get a hold of these panels? Typically custom panels for panel-ready appliances need to be custom ordered. A cabinet door maker is a go-to person to create the needed panels, but for a costly penny. In cabinetry, custom usually refers to a high-end cost. For sure this is the largest built-in appliance one would have in a kitchen.
Trash can cabinet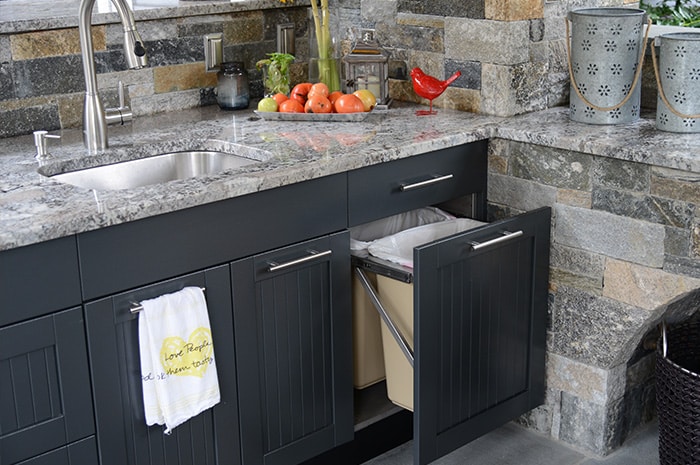 Is a trash cabinet considered a built-in appliance? Yes and no. Having a trash can cabinet removes the need of actually having a physical trash can. It differs from the mindset of being a built-in appliance because, well it isn't an appliance. Some cabinet companies may create a cabinet that can store a complicated trash bin that is more suited for storing trash. Having this cabinet helps reduce the amount of standalone add-ons in a kitchen. Typically a kitchen that favors built-in appliances will lean to modern. The ideology behind modern kitchens is sleek and minimalist.
More Obscure Built-in Appliances
Trash compactor
This appliance is similar to having a trash can cabinet, but industrialized. Like it's built-in dishwasher brethren, trash compactor can have a panel ready option to look identical to your cabinets. This gives off the illusion of having a stainless steel appliance along with everything else in your kitchen. A trash compactor typically measures 15" wide, 34" tall, and 24" deep. One may be thinking having yet another stainless steel appliance is too much. Having a panel ready replaces the need for a trash can and reduces waste.
Double oven/wall oven Built-in Appliance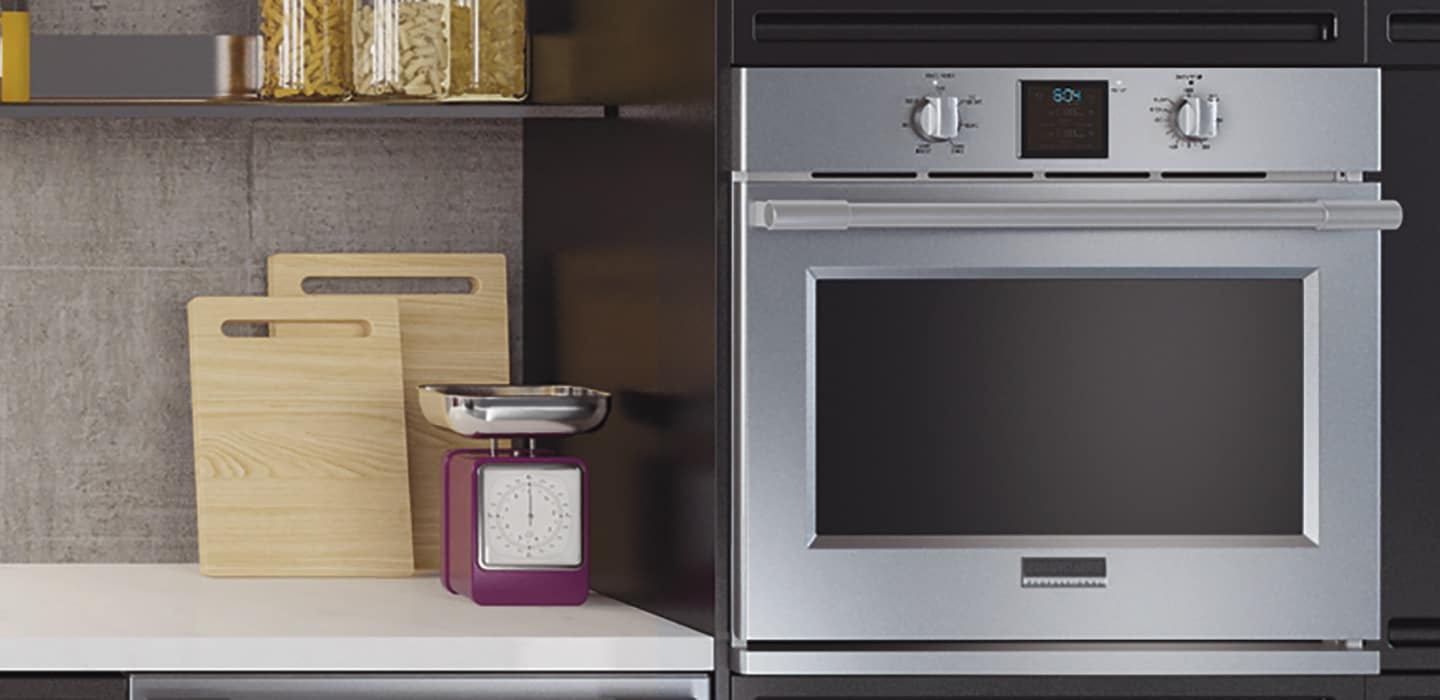 A range is debated on when attempting to replace stainless steel appliances. A typical slide-in range has a stovetop and an oven split into a wall oven and stovetop. Who would want a wall-mounted oven rather than a traditional slide-in range? Some customers may not only want less stainless steel in between the cabinets but actually want two ovens. A busy kitchen with a lot of guests may require multiple cooking methods simultaneously. In actuality, a person can simply build a wall oven into the cabinets under a stovetop to recreate the look of a slide-in range.
Range top/stovetop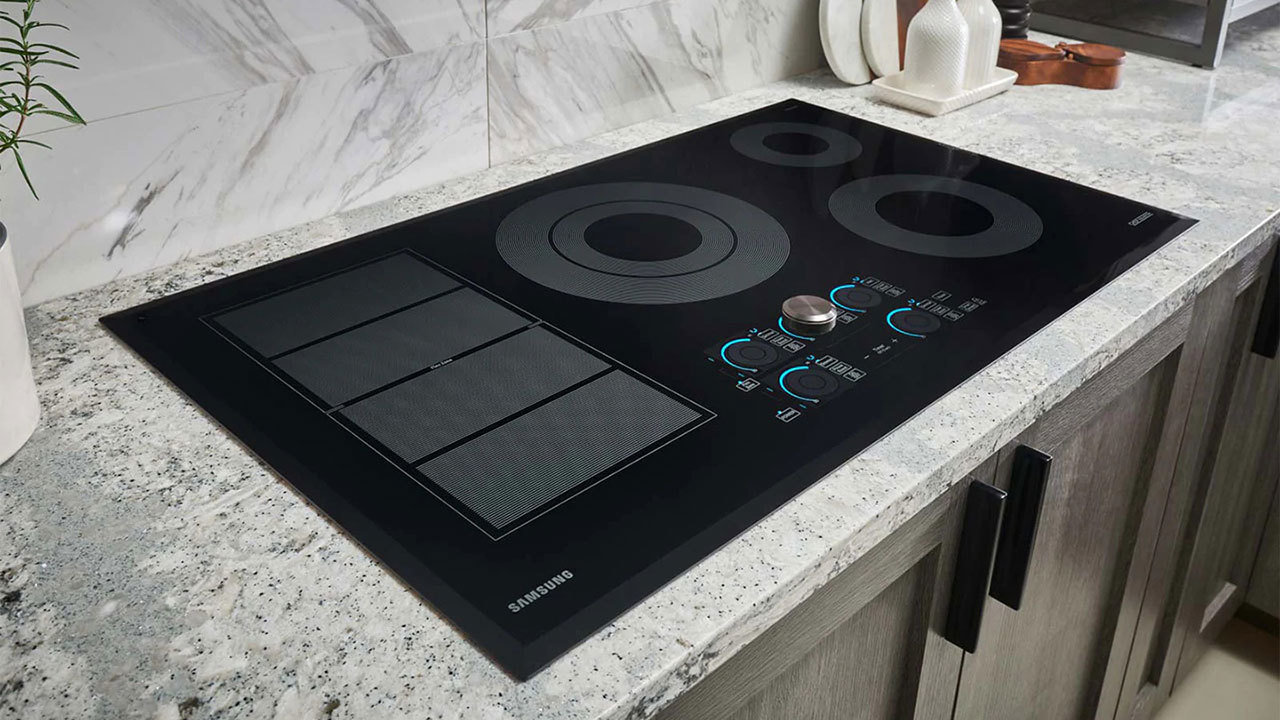 People looking to replace their oven will end up choosing a range top or stovetop. These appliances are only a few inches in thickness and allow for cabinet storage. The stovetop allows for a continuous cabinet aesthetic without having a break with a stainless steel appliance in between. The sleek modern stovetop will fit European-style kitchens more. Traditional kitchens will also feature either range tops or stovetops. Typically having this will mean the homeowner will install a wall oven in the kitchen.
Built-in microwave/ microwave oven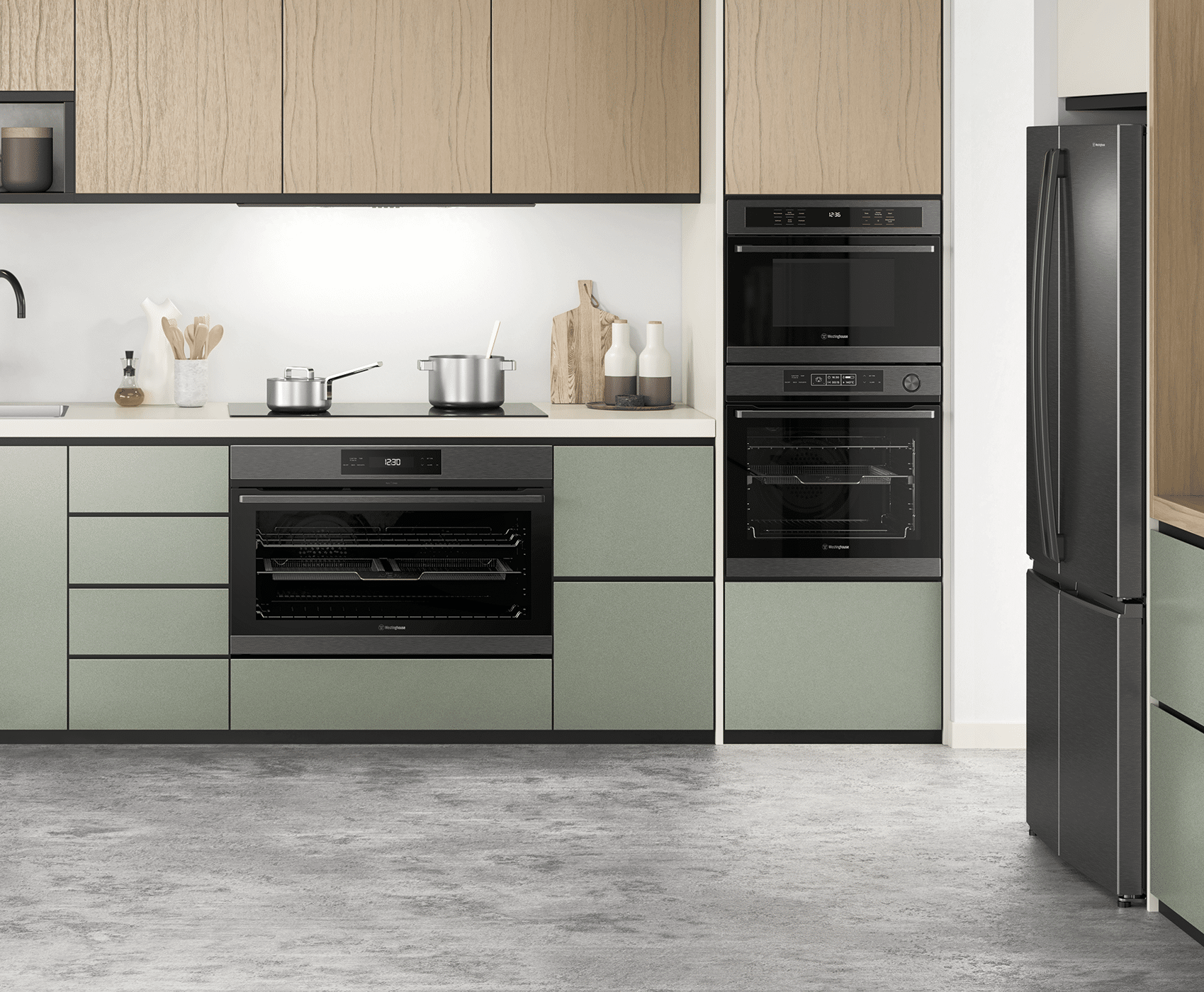 There are two ways to have a replacement from just a microwave sitting on the countertop. The first is with a built-in microwave unit. This is a base cabinet drawer with an opening for a microwave unit. Most microwaves you purchase from a home improvement store have a microwave trim kit separately. The trim kit creates a built-in customized look. Not only that, but having a microwave over a wall oven will have mismatched sizes. The trim kit allows the microwave to match the same width.
Microwave hood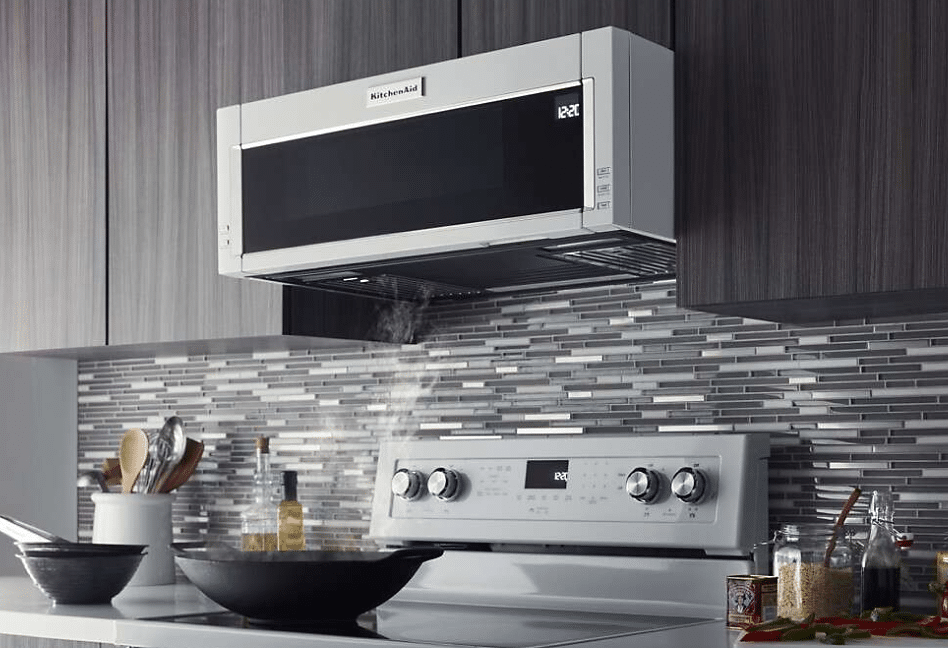 This method is commonly the replacement for a countertop microwave and tackles two replacements at once. A microwave hood vent sits over the stove acting as a range hood. Some homeowners may opt out of this option. Microwaves may not be needed in a household. Either they need a traditional range hood for stronger air suction or prefer not to use a microwave in the household. Either way, it simplifies the visual appliances in the kitchen.
Is a microwave hood a good idea? There are some trade-offs to having a microwave hood. Visually, some people do not like seeing a microwave in their kitchen. This reason is why some prefer the built-in microwave cabinet with the trim kit. When cooking, the grease can get onto glass doors. The microwave hood door is no exception to this rule. Since it is right above and in front of you, the glass door is bound to get dirty and constantly needs to be cleaned.
Built-in coffee maker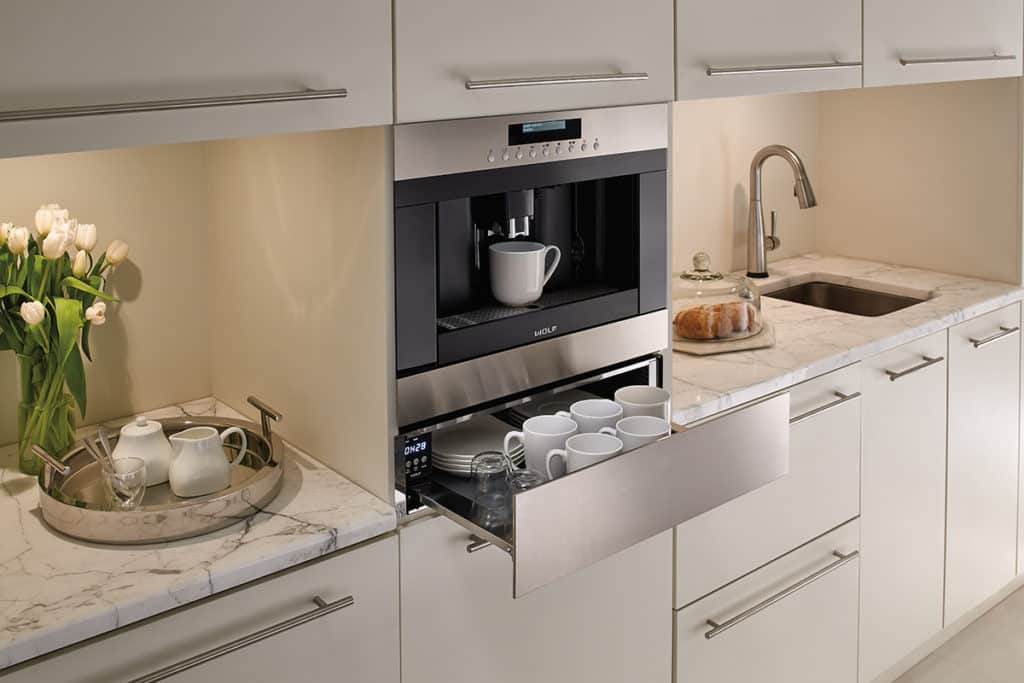 Not a typical appliance that everyone needs, especially those who prefer tea of course. According to Food Navigator, only 23% of US households own a coffee pod machine. Why are coffee makers incorporated into cabinets? Common coffee maker machines are 15" wide, 21" depth, and as tall as 18" high. This is one of the largest appliances found on countertops with the capability to be built in.
Potential Built-in Appliances
A lot of the other appliances we want hidden are too difficult to incorporate into cabinets. Either these appliances do not have standard sizes. There are some built-in appliances that only appeal to a small audience and are not used by everyone. These may include toasters, rice cookers, blenders, slow cookers, and toaster ovens. Although one could transform a traditional cabinet to a customized pull-out built for a specific appliance like these, it is not practical. The above appliances require an outlet and having the appliance built into a cabinet would need the cable to compensate for the appliance being stored inside. Is this idea not doable? It is possible to create.